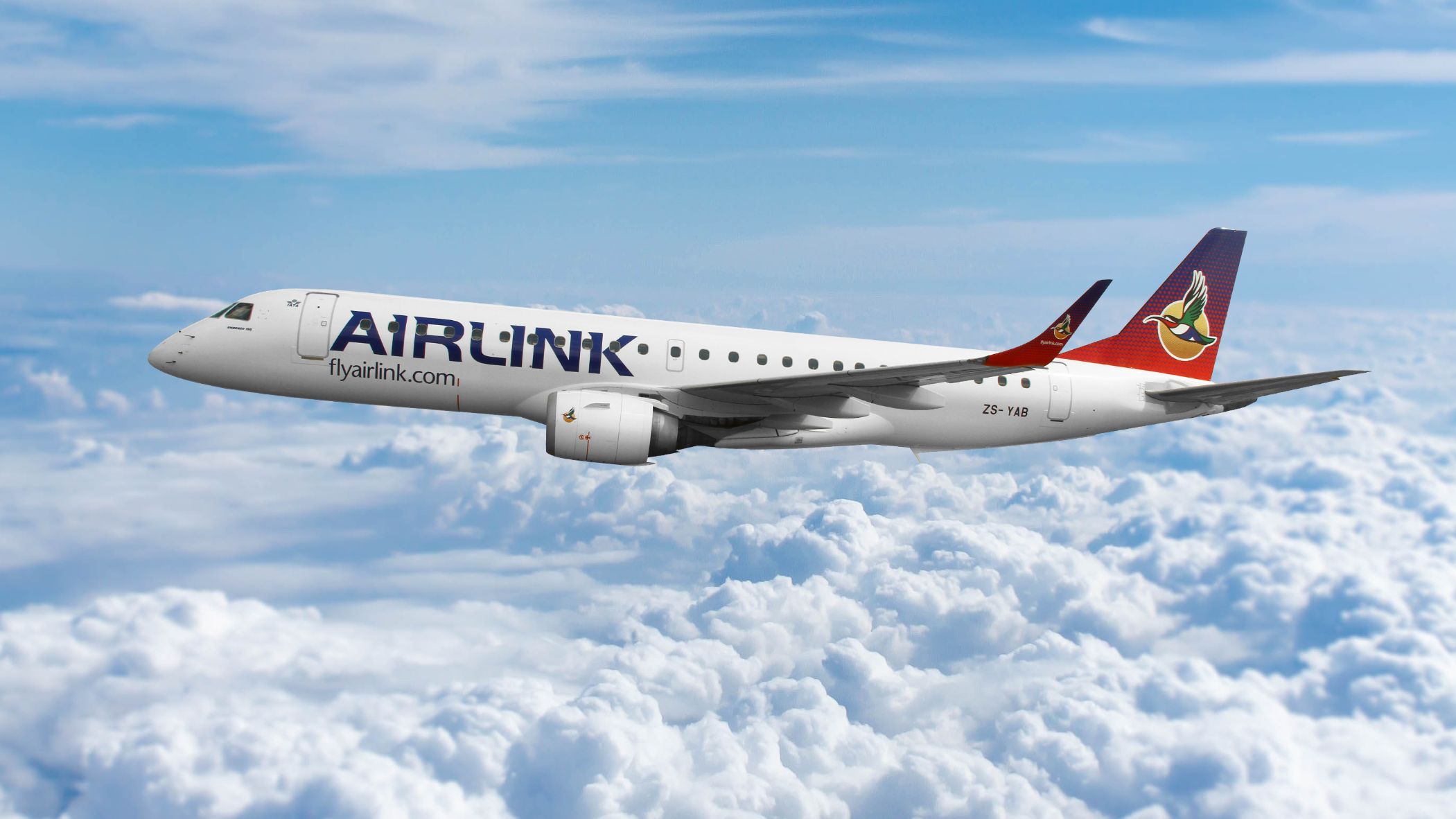 25 January 2021
Celebratory Inaugural Fare on Airlink's New Non-stop Flights Between Cape Town and Harare
 Airlink, the independent regional airline, is offering customers a special inaugural fare to celebrate the launch of its new direct service between Cape Town and Harare, which will commence on 03 March 2021.
The new route, which will satisfy demand for direct services between the two cities, is the latest in a series of Airlink connections across its Southern African network.
The special inaugural fare between Cape Town and Harare is from R 2725 one way and R5292 return, including all taxes and is open for sale and valid for travel throughout March 2021, in W class. Terms and Conditions apply.
"We will launch with three return flights a week, increasing to daily flights from 1 April 2021 to provide customers with more choices and greater convenience," explained Airlink Managing Director and CEO, Rodger Foster.
Airlink had intended to commence the service in mid-January, but changes to South Africa's curfew obliged us to revise its schedule, which unfortunately also pushed back the launch of the new service to 03 March. "We apologise to ticket-holders for the postponement and any inconvenience or disruption to their business and travel plans," added Mr Foster.
Existing ticket-holders have the choice of routing via Johannesburg or changing their date of travel for the direct service.
With the land borders between the two countries temporarily closed under the latest COVID19 restrictions, air travel is the only alternative for families, tourists and business travellers.
"At Airlink, we have been looking forward to launching this important new route, which will provide convenience to business and leisure travellers, saving them precious hours transferring via Johannesburg and also limiting their exposure to potential touch-points, which is a key consideration as we adjust our travelling habits during the COVID-19 pandemic. Airlink's unique service on the route will also support trade, commerce and tourism between the two cities and their respective markets at a time when it is desperately needed," added Mr Foster.
Our north-bound flights will depart from Cape Town during the mid-morning, with the southbound flight leaving Harare in the early-afternoon, ensuring passengers have sufficient time to travel from the airport to their homes or places of accommodation before the 21h00 curfew. The new service is one of several Airlink flights connecting Cape Town with other destinations.
Airlink's great value for money Economy Class fares include a 20kg free economy class checked in luggage allowance plus a 15kg sporting equipment allowance. Onboard, our customers are treated to a complimentary light meal, refreshments, generous leg room and a choice of aisle or window seat (our flights do not have middle seats).
Experience more https://www.flyairlink.com/profile/airlink-profile#businessclass
Flight Schedule (from 03 March 2021) Wednesdays, Fridays and Sundays From 1 April 2021 the service will operate daily.
Cape Town - Harare
Flight 4Z 382, will depart Cape Town daily at 09h45, arriving in Harare at 13h05.
Harare – Cape Town
Flight 4Z 383, will depart Harare daily at 13h50 arriving in Cape Town at 17h10.
Please visit our flight schedule guide for more information.
For Reservations book direct on www.flyairlink.com or contact your booking agent.
COVID-19 Health and Safety onboard Airlink flights
During these stressful times, health and safety – yours and ours - remains our primary concern. Our aircraft are equipped with High Efficiency Particulate Air Filters (HEPA), which effectively block 99.97% of particulates, including Coronavirus molecules. These HEPA filters continually sterilise the air in our cabins, which is renewed entirely every three minutes.
Read more about our Embraer ERJ Regional Jet Cabin Air Quality here.
With Airlink you are safe and can fly with confidence – it's easier than you think.
Zimbabwe and South African Biosecurity and Travel regulations
Please check with the appropriate Zimbabwe Government authority for the latest regulations for travel from and returning to Zimbabwe.
South Africa has introduced additional measures for international travellers arriving in the country. Click here for information on these requirements. Please note that all arriving travellers are now required to provide a negative Polymerase Chain Reaction (PCR) COVID19 test certificate, issued by an accredited laboratory in line with World Health Organisation standards, no more than 72 hours before the date of travel. South African Authorities reserve the right to verify the authenticity of presented PCR test certificates. Arriving  travellers unable to produce a valid certificate will be required to quarantine, at their own cost, for 10 days.
For customers flying from South Africa to Zimbabwe, there are some important steps and items you will need to follow before and as your proceed through any South African airport. Click here for information on these.
About Airlink
Airlink is a privately-owned regional airline serving a comprehensive network of smaller destinations throughout Southern Africa. We operate independently under our own unique 4Z flight code, offering our customers more freedom, more choices and more travel opportunities.
Look out for the Airlink sunbird on our striking new livery that we are progressively applying to our fleet of modern, reliable and comfortable aircraft. Like our colourful feathered mascot, we are Southern Africa's busiest airline. In 2019 our fleet of more than 50 modern commercial jetliners carried two million customers on more than 63 000 flights, on 55 routes to 39 destinations in nine African countries and St Helena Island.
Airlink is proudly the most punctual South African airline for 2020* with an on-time performance consistently better than 95%. This illustrates our determination and unwavering commitment to put our customers first by providing excellent and reliable service.
Need Help?