IMPORTANT FLIGHT NOTICE:
We encourage all international customers to book one (1) single ticket with through-fares. More Details
LATEST TRAVEL NEWS AND UPDATES
Important Flight Notice

All international customers are urged to book one (1) single ticket with through-fares, as opposed to booking separate tickets to avoid flight delays. Please note that it is essential to read the fare rules.

Important EFT Payment Notice

PayGate has advised that Standard Bank has been re-enabled on SiD. Customers may still encounter issues completing payments for the moment.

We're launching new Lilongwe and Blantyre routes.

We will start operating flights from Johannesburg to Lilongwe on 4 September and to Blantyre on 5 September 2023.
General Baggage Information
Baggage Queries
Customers who require assistance with damaged, lost or delayed baggage can contact Airlink Baggage Dept on:
Tel. +27 11 390 9872
Hand & Cabin Baggage

The size of one carry on item shall not exceed the overall dimensions of 115cm.

Checked or Hold Baggage

The general free baggage allowance on Airlink flights is 20 kg in Economy Class and 30 kg in Business Class per adult passenger.

Liquid, Aerosols & Gels

LAGs stands for Liquid, Aerosols and Gels and refers to new International safety regulations that limit the quantity of these items allowed in your hand luggage on international flights.
Special Equipment & Baggage Categories

Read our size and weight limits as well as specific guidelines for special baggage items.

Sporting Equipment

Angling, Non-motorised Bicycle, Cricket, Golf, Hiking, Horse Riding, Hunting Weapons.

Firearms & Ammunition

Read our guidelines for Firearms and Ammunition
Passenger Property Claim
View & Download the Passenger Property Claim
Frequently Asked Questions - Baggage
Conditions of Carriage
Terms & conditions related to all Baggage categories.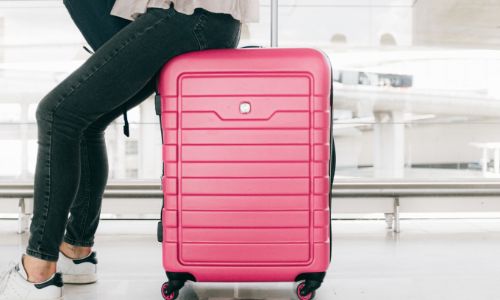 Baggage Policy
View & Download the Baggage Policy