HAND AND CABIN BAGGAGE
In addition to the checked baggage allowance, each passenger may carry without additional charges hand baggage suitable for placement in the closed overhead rack or under the passenger's seat with maximum dimensions specified by the carrier subject to space availability. One piece, maximum weight 8kg shall not exceed the dimensions 56cm by 36cm by 23cm.

Dimensions of Hand-baggage: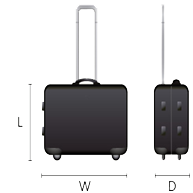 The standard allowance per class for domestic and international flights is:

Business Class: 2 Pieces plus 1 slimline laptop bag
Economy Class: 1 Piece plus 1 slimline laptop bag

The following is classified as hand or cabin baggage:
Handbag, pocket book or purse
One foldable garment bag (sum of dimensions of 185cm)
Overcoat, wrap or blanket
Umbrella or walking stick
Small camera and/or binoculars
Reading matter for flight
Infant food for consumption during the flight
Infant carrying basket and infant's food for consumption during the flight
A laptop and NOT a laptop bag is an additional free article which may be carried onboard. As few passengers travel without a bag to protect their laptops, it is acceptable to allow a laptop in a laptop bag onboard. However, the size of the laptop bag is defined by the size of the laptop. Bags that contain large amounts of documentation and personal items are not acceptable as a laptop bag and as such would be considered as cabin baggage and form part of the passenger's cabin baggage allowance.
Mobile phone (not to be utilized during flight).
A Passenger with Reduced Mobility's may carry the below free of charge, even if it is carried in the aircraft hold:
- 1 fully collapsible wheelchair (only in the aircraft hold)
- 1 Pair of crutches or braces
- 1 Small dialysis machine. For self-use of the passenger (only in aircraft hold)
- 1 Other orthopedic device
- Braces or prosthetic devices (provided passenger is dependent on them)
- Assistive medical devices like Portable Oxygen Concentrators (POC) and Continuous Positive Airway Pressure (CPAP)
Exceptions and Important Need-to-Knows about Hand/Cabin Baggage:
If passage is on the Lodge-Link services i.e. between Nelspruit/Skukuza and the Sabi Sands/Ngala/Phinda lodges - Cessna Caravan operations, an allowance of 8kg will be permitted provided such is packed in a soft/pliable bag
When, for operational reasons, there is no space in the cabin to accommodate carry-on items, such items may be carried in the hold of the aircraft.
The above articles, other than wheelchairs and infant carrying baskets, must be limited to a size which may be conveniently stowed in the aircraft's cupboard or pod or under the seat in front of the passenger.
Persons with reduced mobility may carry free of charge one wheelchair maximum weight of 32 kgs and/or other assertive devices upon which they are dependent.
The standard allowance in Business Class is two pieces of cabin baggage. Economy Class allows for one piece of carry on for domestic and regional flights. This applies to all passengers travelling in Economy Class regardless of their Voyager or other status.
For through journeys where the passenger travels partly in Business Class and partly in Economy Class, the free hand baggage allowance on each portion of travel shall be that applicable to the class of service for which the fare is paid.
When an item, which is claimed to be one specified above, does not visibly accord with the relevant description or, if the passenger has more than one piece of hand baggage, it must be mass checked and such mass will be included in the total checked baggage mass.
Any other articles shall not be carried free, in addition to the free baggage allowance, and the acceptance of such other articles in the passenger cabin must be limited and conform to airline regulations.