DISCOVER RICHARDS BAY
Richards Bay is a popular holiday destination on the north coast of KwaZulu-Natal, South Africa. The area is known for its stunning sandy beaches, breathtaking scenery and year-round warm subtropical climate.
Richards Bay boasts one of the major ports in South Africa and the largest coal terminal in the world. Industrial and commercial development in the city is booming, which has resulted in an increase in a new type of travel known as' industrial tourism'.
Richards Bay is most loved for its proximity to the kingdom of Zululand. It provides a gateway to this tranquil rural area with abundant wildlife. Characterised by grasslands and rolling hills, Zululand offers an exciting safari escape. The Zululand Birding Route is a popular attraction in the area and attracts birders and holidaymakers all year round. Richards Bay is also the closest regional airport to the small town of St. Lucia, which is popular with travellers for its natural beauty and easy access into the iSimangaliso Wetland Park, a UNESCO World Heritage Site and wildlife paradise. The park stretches along the Zululand coast from Maphelane in the south, to Kosi Bay in the north, on the Mozambique border and offers eco-tourists some of the most diverse African wildlife and outdoor experiences imaginable.
For your return journey, fly back to Johannesburg with Airlink and travel beyond to other key leisure destinations.
WHERE TO STAY
Discover where to stay for your next trip to Richards Bay. Explore our partner hotels, lodges and tented camps.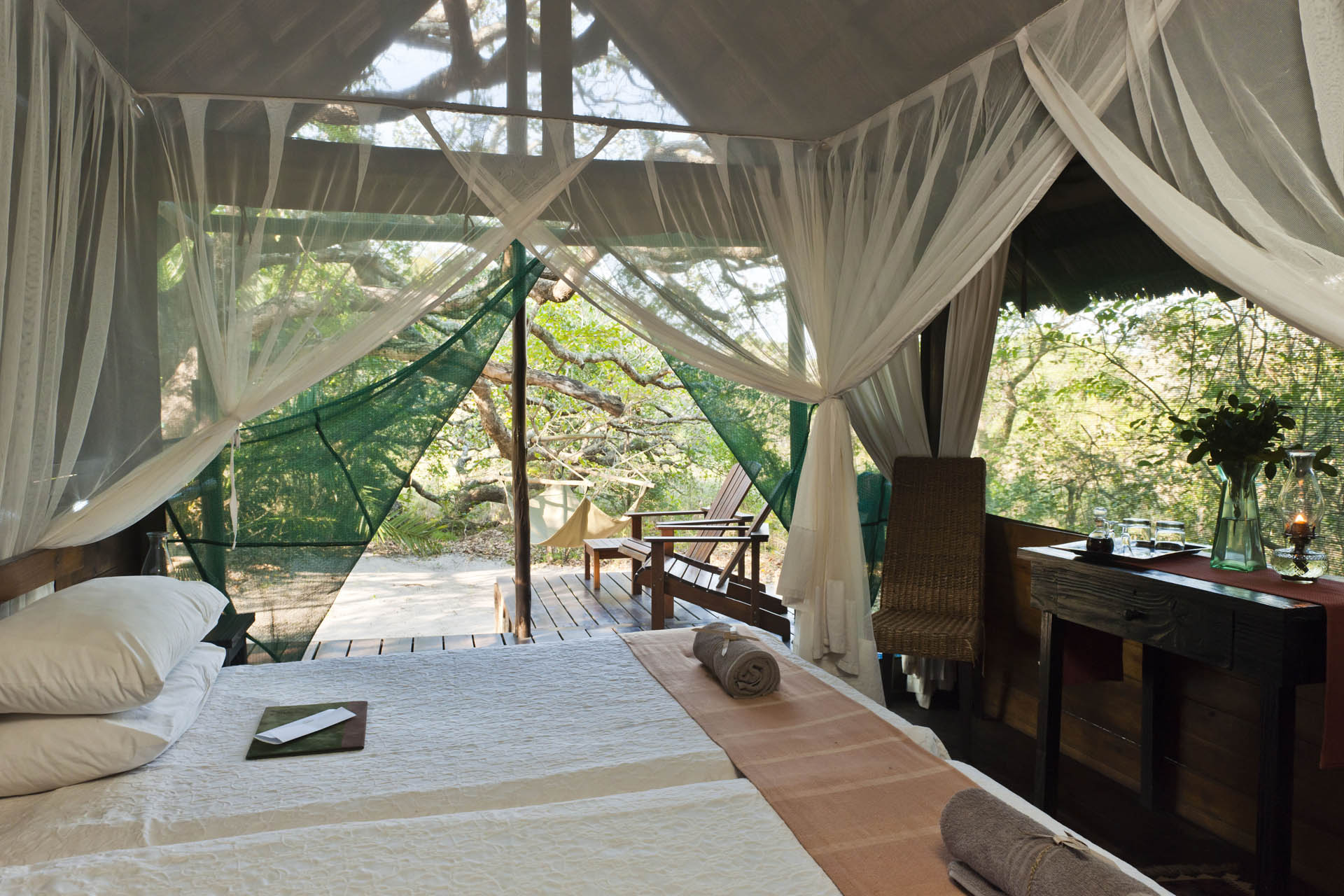 Kosi Forest Lodge
Kosi Forest Lodge is situated in an unspoilt wilderness area of the iSimangaliso Wetland Park, a UNESCO World Heritage site. This rustic 16 bed lodge nestled in a beautiful sand forest on the waterways of the Kosi Lakes System offers comfortable accommodation in wood, thatch and canvas chalets.


Rhino River Lodge
Rhino River Lodge is a Big 5 family-friendly safari lodge situated on a 2300 hectare private game reserve in the heart of the Manyoni Private Game Reserve.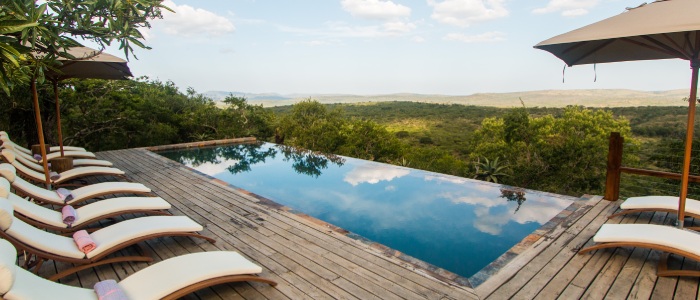 Rhino Ridge Safari Lodge
Rhino Ridge Safari Lodge is the only private/community owned lodge in Hluhluwe iMfolozi Park. The lodge commands spectacular views over 96 000 hectares of Big 5 territory and an active waterhole. The lodge exudes a sense of peace and relaxation.

Rhino Sands Safari Camp
Situated in the heart of one of South Africa's premier game viewing reserves, the Manyoni Private Game Reserve, Rhino Sands Safari Camp is an eight-bed luxury tented camp designed to bring the classic East-African safari to KwaZulu Natal. Each of the tents is situated in a private patch of riverine forest.

Manyoni Private Game Reserve
Conveniently located only 3 hours from Durban and 6 hours from Johannesburg, Manyoni is home to a range of luxury safari lodges, and boasts 23,000 hectares of magnificent Zululand scenery.
EXPLORE RICHARDS BAY
The warm climate and beaches make Richards Bay an ideal seaside holiday destination on KwaZulu-Natal's north coast. It is the deepest natural harbour in Africa and is one of South Africa's largest harbours, with beautiful coastal scenery and biodiversity, perfect for a boat cruise experience.
What to do in Richards Bay
Advantage Harbour Cruises

A popular experience in Richards Bay is an Advantage Harbour Cruise. Richards Bay's Harbour is home to amazing biodiversity and an abundance of marine life. The cruise is a one-of-a-kind experience, making it a lovely group activity to experience with friends or family.

Enseleni Nature Reserve

Whether you are interested in wildlife, birding, hiking or simply observing nature, Enseleni Nature Reserve has what you desire. Located just outside of Richards Bay, the reserve is best for day trips that are most popular in the birding and hiking communities.
A Drone view of Richards Bay
A look at the beauty and diversity that Richards Bay has to offer from a birds eye view.