IMPORTANT TRAVEL INFORMATION
Requirements for Domestic and Regional Travel during Covid19 More Details





Discover Nosy Be
Please note that Airlink has suspended all services to Nosy Be pending COVID regulations in Madagascar until further notice.

This unique Indian Ocean island getaway is known for its dazzling white beaches and troops of lemurs. It's loved for its volcanic lakes, turquoise ocean and an exotic selection of wildlife including the panther chameleon. It's a destination which is sunny all year round and full of surprises.
Nosy Be lures water-loving visitors to it for incredible diving, swimming, snorkelling and sailing experiences. Inland there are cocoa, ylang-ylang and vanilla plantations, crater lakes and waterfalls to explore by road, foot or quad bike.
For your return journey, fly back to Johannesburg with Airlink and travel beyond to other key leisure destinations.
Read more about Nosy Be:
Go with the Fluo, written by Fiona McIntosh for Escapes Magazine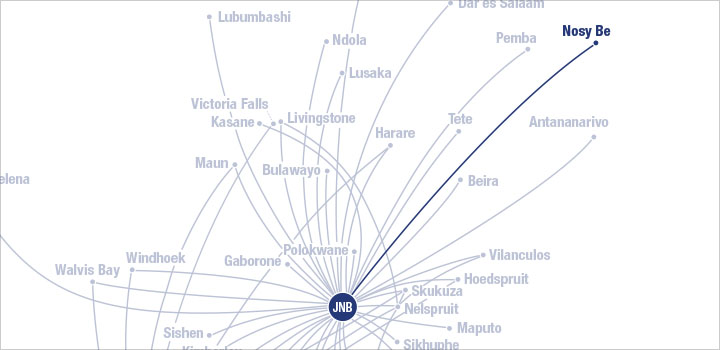 Direct Flights to Nosy Be with Airlink
Airlink connects you to Nosy Be with direct flights from Johannesburg.
WHERE TO STAY
EXPLORE NOSY BE
Nosy Be is the quintessential island holiday destination. Charming towns overlook the Indian Ocean, with conditions here ideal for snorkelling and diving. Lokobe Reserve homes unique wildlife, and an extinct volcano is arguably the best sunset spot.
What to do in Nosy Be
Nosy Tanikely Marine Park

Tanikely is a small island close to Nosy Be and the Nosy Tanikely Marine Park is world-renowned for its biodiversity and abundance of marine life. The area is preserved for snorkelers and those passionate about exploring the coral reef and ocean-aquarium of sea life.

Read More

Mont Passot

Mont Passot is a must-see when exploring Nosy Be. Perfect for admiring sunsets with a loved one or hiking to eye the panoramic view, solo or with family, Mont Passot is a volcanic mountain with a peak about 400m high. The extinct volcano is an exceptional location for any traveler touring Nosy Be.

Read More
Jan Braai Explores Nosy Be with Airlink
Jan Braai, the creator of the South African National Braai Day initiative, recently explored Nosy Be in the north of Madagascar with Airlink.
Watch more
TOUR OPERATORS FOR NOSY BE
Need Help?