IMPORTANT TRAVEL INFORMATION
Requirements for Domestic and Regional Travel during Covid19 More Details


DISCOVER NELSPRUIT
Nelspruit is in the north east of South Africa and is the capital city of Mpumalanga - arguably South Africa's most beautiful and geographically diverse province. Branded as the 'place where the sun rises' Nelspruit is known for its sub-tropical climate, lush hills and valleys and for being the trading centre for citrus, tropical fruit and nut production. It is loved for being the gateway to the Kruger National Park and the place where exploration and adventure awaits its visitors.

For your return journey, fly back with Airlink to Johannesburg or connect on Airlink from Johannesburg to Cape Town.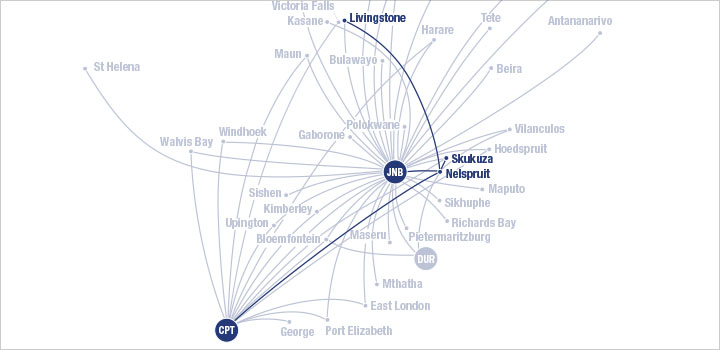 Direct Flights to Nelspruit with Airlink
Airlink connects you to Nelspruit with direct flights from Johannesburg, Cape Town, Livingstone and Skukuza.
WHERE TO STAY
Discover where to stay for your next trip to Durban. Explore our partner hotels, lodges and tented camps.
EXPLORE NELSPRUIT
Nelspruit (Mbombela) is well-positioned between Johannesburg and the Mozambican border, and close to South Africa's famous Kruger National Park. Along with outdoor adrenaline-pumping activities, Nelspruit has several nature, wildlife and historical features that are great for day visits.
What to do in Nelspruit
Lowveld Botanical Gardens

Lowveld Botanical Garden is one of the nine National Botanical Gardens in South Africa. The gardens are thought to be one of the primary reasons that visitors embark on a journey into Nelspruit, making it an essential trip!

Read More

Chimp Eden

The only chimpanzee sanctuary in South Africa, Chimp Eden is situated in the Umhloti Nature Reserve just outside of Nelspruit. Chimp Eden was created for chimpanzees rescued from being mistreated and is a true wholesome experience for any Nelspruit tourist.

Read More
Jan Braai Explores Nelspruit with Airlink
Jan Braai, the creator of the South African National Braai Day initiative, recently visited Nelspruit, located in the heart of South Africa's Mpumalanga province.
Watch more
Need Help?