IMPORTANT TRAVEL INFORMATION
Requirements for Domestic and Regional Travel during Covid19 More Details


Discover Nampula
Surrounded by the open plains and rising mountains of the interior of Mozambique, Nampula is Mozambique's third largest city and an ideal base from which to begin your exploration of the north of the country. Known for its unique atmosphere and culture, it's worth spending a little time exploring Nampula before continuing your travels.
Nature-lovers will appreciate the volcanic rock formation that lines Nampula's vast horizon, as well as the remote scenic beauty that the area offers, while architecture enthusiasts will love the city's creamy white cathedral, as well as the ruins found on Ilha de Moçambique (Mozambique Island) - a tiny, crescent-shaped island directly to the east of Nampula. Along with remains of grand old buildings that were built from the coral rock, the island is also the site of one of Africa's most formidable fortresses - Fort São Sebastião.
For your return journey fly back to Johannesburg and travel beyond with Airlink to other key leisure or business destinations.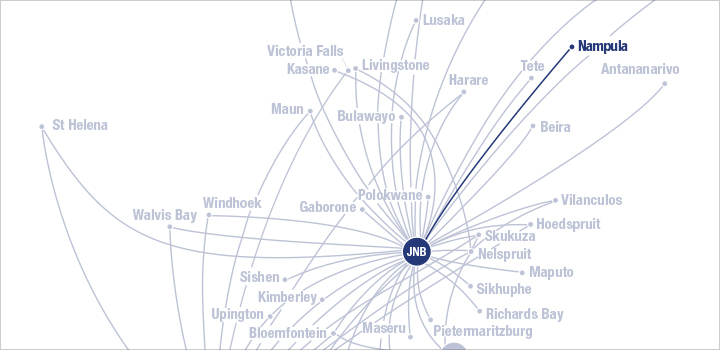 Direct Flights to Nampula with Airlink
Airlink connects you to Nampula with direct flights from Johannesburg.
WHERE TO STAY
Discover where to stay for your next trip to Nampula. Explore our partner hotels, lodges and tented camps.
EXPLORE NAMPULA
Nampula is a stopover for most travellers on the way to some of northern Mozambique's best sight-seeing. This coastal city itself offers sites of fascinating cultural heritage, such as the Catedral de Nossa Senhora da Fatima and Fort Sao Sebastiao.
What to do in Nampula
Fort Sao Sebastiao

Fort Sao Sebastiao is the oldest standing fort in sub-Saharan Africa. Not only that, but the building is considered to be the oldest European building in the Southern hemisphere!

Read More

Stone Town

Overflowing with Mozambiquan history, Stone Town's villas and warehouses were built solely with limestone and wood. The town has been described as having a 'carnival atmosphere'. The history and architecture that the town was built on is sure to have anyone engrossed in the Stone Town experience.

Read More
Coral Lodge Mozambique - Discover the true essence of Mozambique, in Luxury
Coral Lodge combines one of Mozambique's most stunning beach locations with the country's rich culture and history of "Ilha De Mozambique", the only UNESCO World Heritage Site in Mozambique.
Watch more
Need Help?