IMPORTANT TRAVEL INFORMATION
Requirements for Domestic and Regional Travel during Covid19 More Details


Discover Lusaka
Lusaka is Zambia's capital city and largest urban zone, as well as the geographic and commercial heart of the nation. It is known as one of southern Africa's fastest growing cities with new developments springing up all over it. In addition to its numerous shops and hotels, there are many good restaurants and coffee shops for the discerning Airlink passenger. The bustling Central Market, and numerous small shops on Cairo Road, provide an authentic insight into Zambian culture and are great places to meet the locals.
While the efficient banking, ease of communication, and embassies in the city make Lusaka a useful place to visit in Zambia, it is most loved for being a key entry point for travellers wanting to explore the wild and remote areas of the country, such as the South Luangwa National Park.
For your return journey fly back to Johannesburg and travel beyond with Airlink to other key leisure and business destinations.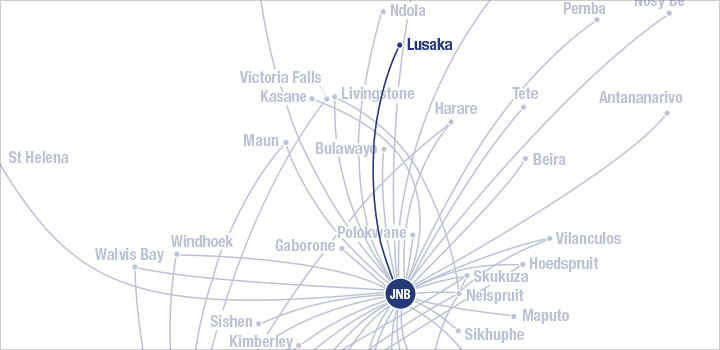 Direct Flights to Lusaka with Airlink
Airlink connects you to the South Luangwa National Park through Lusaka with direct flights from Johannesburg.
WHERE TO STAY
EXPLORE LUSAKA
As Zambia's largest and capital city, Lusaka is a hub of modern and local commercial activity, that can be enjoy in the great selection of shops, restaurants, and hotels. The country's history comes alive at the Kabwata Cultural Village, while Nembo Scenic Park offers a miniature version of Zambia.
What to do in Lusaka
Nembo Scenic Park

This activity is for those tourists who are looking to learn more about Zambia and the country's structure and make-up. Nembo Scenic Park is a miniature model of the country, providing a bird's eye view of Zambia. Being able to view this gorgeous country is an adventure that you will surely enjoy.

Read More

Kabwata Cultural Village

The Kabwata Cultural Village's purpose is to preserve Zambia's history through cultural and visual arts. The traditional village consists of huts in which Zambian people live. Since the village's construction, crafts and food have been added as an experience for travelers from far and wide. Visiting the Kabwata Cultural Village will give any lucky tourist the full Zambian experience.

Read More
Let's Explore Zambia
Whether you seek wild adventures, dramatic scenery, or simply the opportunity to lie back and absorb the beauty and grace of the land, its wildlife and its people…Zambia has it all.
Watch More
Need Help?