IMPORTANT TRAVEL INFORMATION
Requirements for Domestic and Regional Travel during Covid19 More Details


DISCOVER LIVINGSTONE
The charming and quaint old colonial town of Livingstone is named after the famous Victorian missionary and explorer, Dr. David Livingstone, and was once the bustling capital of Zambia. Although no longer the country's capital, Livingstone remains a very historical town and is Zambia's most popular tourist destination. Architecture buffs will enjoy the elegant Edwardian buildings, left over from its days as the nation's capital, which line the town's wide avenues.
Livingstone is loved by locals and travelers alike for being home to the Zambian side of the Victoria Falls, and no trip to this town is complete without beholding this world wonder. During high season from February to June, the spray alone from the magical energy-charged waters will soak you. Its convenient location near the mighty Zambezi River and Victoria Falls makes Livingstone Zambia's adventure gateway and it is known as one the world's adrenaline capitals. Canoeing and whitewater rafting down the Zambezi are just a couple of the activities popular with adventurous travelers.
For your return journey fly back to Johannesburg and travel beyond with Airlink to other key leisure destinations.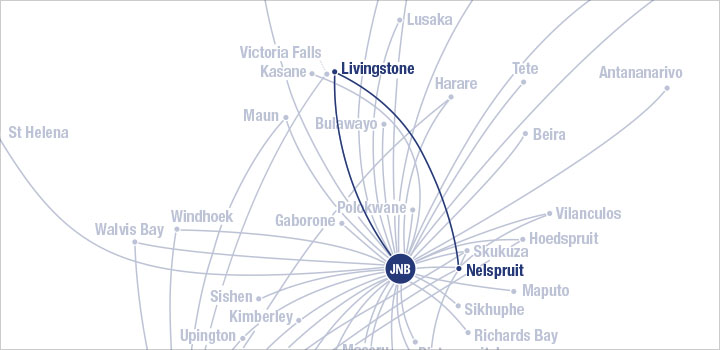 Direct Flights to Livingstone with Airlink
Airlink connects you to Livingstone with direct flights from Johannesburg and Nelspruit.
WHERE TO STAY
EXPLORE LIVINGSTONE
Livingstone is well-positioned as a base from which to visit Africa's iconic Victoria Falls and Zambezi River from the Zambian side. It is Zambia's outdoor adventure hub, visited by adrenaline junkies and nature lovers from around the world.
What to do in Livingstone
Victoria Falls

Located on the Zambezi River, Victoria Falls – with a combined width of 1708m and height of 108m – is the largest waterfall in the world. Victoria Falls is one of the Seven Natural Wonders of the World and is shared between Zimbabwe and Zambia. Though, while in Livingstone, you will be able to experience the local Zambian setting during the same trip to the Falls.

Read More

Royal Livingstone Express

Spending a sunset on the Royal Livingstone Express is a relaxing and luxurious experience. The steam train's passengers are given an evening of fine wining and dining and spectacular views. The journey is all-inclusive and is perfect for a romantic evening or an evening with family or friends.

Read More
Devil's Pool - Swim On the Edge of the World's Largest Waterfall
Visit the famous Devil's Pool for a swim on the edge of Victoria Falls, the world's largest waterfall.
Watch More
Need Help?