DISCOVER KIMBERLEY
Kimberley is the capital city of the Northern Cape and one of the largest cities in South Africa. Born out of the diamond rush of the late 1800s, the town has conserved a lot of its history and is known for being home to the Big Hole, a diamond mine the size of eight football fields that was excavated by hand.
Today, Kimberley is a bustling modern city and is known for being the main attraction in the Northern Cape with plenty of tourist attractions, including shopping malls, art galleries, restaurants, museums and a licensed casino. The Magersfontein battlefield and museum is also just a short drive outside of Kimberley for those interested in the history of the Anglo-Boer War.
For your return journey fly back to Cape Town or Johannesburg and travel beyond with Airlink to other key leisure and business destinations.
WHERE TO STAY
Discover where to stay for your next trip to Kimberley. Explore our partner hotels, lodges and tented camps.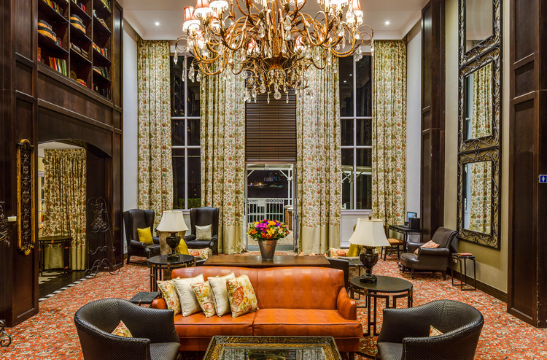 Protea Hotel by Marriott Kimberley
A Perfect base for leisure or business travelers. Kimberley Anne Hotel Small Luxury Hotel
Welcome to the Kimberley Anne Hotel. Kimberley Anne is a small luxury hotel in Kimberley in the Northern Cape, offering luxury accommodation. The Kimberley Anne experience starts with their 16 luxury rooms where you'll experience the comfort and style that flows through every aspect of your visit.
EXPLORE KIMBERLEY
Kimberley is most well-known for its contribution to South Africa's diamond mining past. Now, the 'Big Hole' is its most visible historical landmark of this once busy mining centre. The vintage Kimberley Tram and the country's second oldest pub are part of the town's old-world charm.
What to do in Kimberley
Kimberley Tram

The Kimberley Tram will provide a fantastic trip from The Big Hole to town and back, passing by Kimberley's greatest landmarks. The experience is guaranteed to be a memorable experience.

The Kimberley Mine Museum

Situated right next to The Big Hole, the Kimberley Mine Museum is one of the world's best open-air museums. The museum will allow visitors to be immersed in the culture of the entire province and how Kimberley became popular during the 'diamond rush'.
Airlink Connects You to Kimberley
Airlink connects you to Kimberley, the capital city of the Northern Cape provinve in South Africa, with direct flights from Cape Town and Johannesburg.