IMPORTANT TRAVEL INFORMATION
Requirements for Domestic and Regional Travel during Covid19 More Details


Discover Johannesburg
Originally a mining town built on the discovery of gold, Johannesburg (also called Joburg or Jozi) is now the largest city in South Africa and the capital of Gauteng. This vibrant megacity is known for being one of South Africa's major business hubs and a Pan-African economic powerhouse.

Despite its reputation as a working city, there's more to Joburg than just a well-placed airport and corporate facilities. The bustling city has much to offer in terms of history, culture, shopping, food and a diverse nightlife. Some of the more famous attractions include the Apartheid Museum, Origins Centre, Gold Reef City, Soweto and Maboneng. It is also a convenient starting point for travellers wanting to go on a safari as many of the country's national parks and reserves are within driving distance from Joburg.

For your return journey, travel beyond with Airlink to other key leisure and business destinations within southern Africa.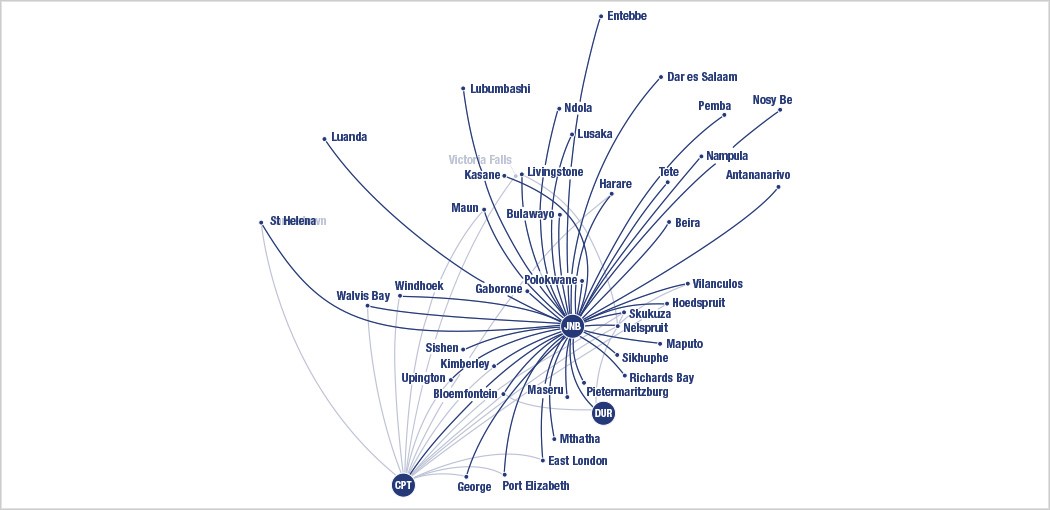 Direct Flights to Johannesburg with Airlink
Airlink connects you to Johannesburg with direct flights from around Southern Africa.
WHERE TO STAY
EXPLORE JOHANNESBURG
Johannesburg is South Africa's central international connection for leisure and business travel. As a major metropolitan, it offers big city living and many sites of interest, including the Apartheid Museum, Gold Reef City, and Cradle of Humankind.
WHAT TO DO IN JOHANNESBURG
Mandela's House

Get ready for an adventure! As the largest theme park in South Africa, Gold Reef City was voted one of Johannesburg's most loved entertainment destinations. With 18 rides, 13 kids' rides and more, you're in for a wild ride.

Read More

Golf Reef City

In Soweto, just outside of Johannesburg, is the house where former president Nelson Mandela resided from 1946 to 1962, before his presidency and during Apartheid. Today, Mandela's House acts as a museum and is filled with memorabilia and photographs of and from the Mandela family. A trip to Mandela's House is a true experience of South African history that you don't want to miss.

Read More
Airlink Connects you to Johannesburg, the City of Gold
Airlink connects you to Johannesburg, the city of Gold, from a variety of destinations.
Watch More
Need Help?