IMPORTANT TRAVEL INFORMATION
Requirements for Domestic and Regional Travel during Covid19 More Details



Discover Jamestown
St Helena Island is known for the abundance of life and beauty on this remote South Atlantic Ocean island. It is loved for the opportunities to swim with its whale sharks, explore historic wrecks and walk or mountain bike its unique landscapes.
Appreciate the unique flora and fauna and immerse yourself in its heritage and history, where the final chapter of Napolean's life played out.
This island is 47 square miles of sub-tropical paradise and is one of the most extraordinary places in the world.
For your return journey, fly back to Johannesburg and travel beyond with Airlink to other key leisure destinations.
Important Info
Removal of items prior to screening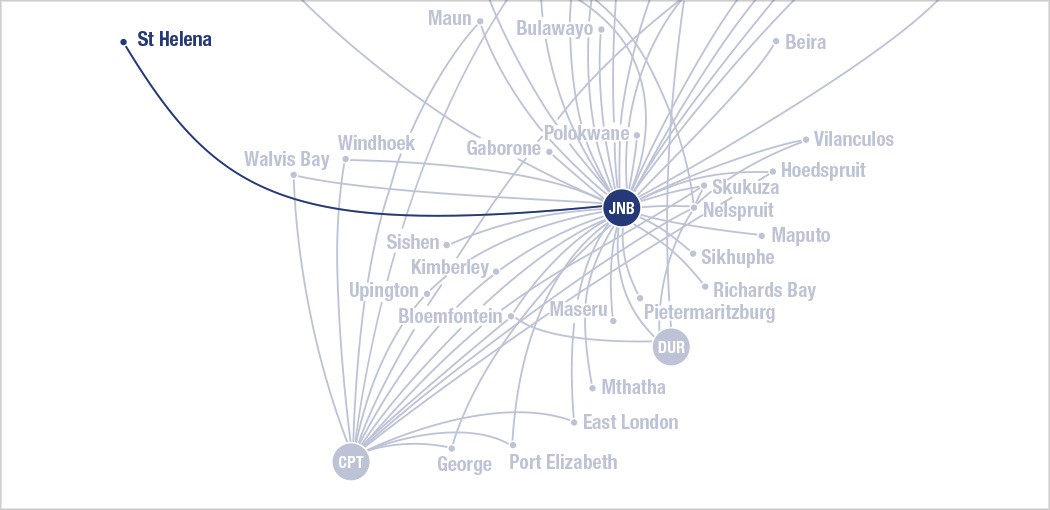 Direct Flights to Jamestown with Airlink
Airlink connects you to Jamestown with direct flights from Johannesburg.
WHERE TO STAY
Discover where to stay for your next trip to Jamestown. Explore our partner hotels, lodges and tented camps.
EXPLORE JAMESTOWN
Jamestown is the capital city of St Helena, one of the best-kept secrets of the South Atlantic Ocean. This remote island is known for its incredible biodiversity, natural scenery, and cultural heritage. Climbing Jacob's Ladder and exploring Half Tree Hollow district are exciting activities on land, while the sea offers opportunities to dive amongst whale sharks and ship wrecks.
what to do in Jamestown
Half Tree Hollow

Housing 22% of St Helena's population, Half Tree Hollow district can be seen while you are approaching St Helena. It is positioned above Jacob's Ladder and is an experience that would be recommended to any and every Jamestown visitor.

Read More

Heart Shaped Waterfall

This stunning waterfall is literally in the shape of a heart! The stream of water runs in a single drop to the valley above Jamestown. It truly is a spectacular sight and unlike anything that you have ever seen before.

Read More
TOUR OPERATORS JAMESTOWN
Need Help?