IMPORTANT TRAVEL INFORMATION
Requirements for Domestic and Regional Travel during Covid19 More Details


Discover Dar Es Salaam
Dar es Salaam is Tanzania's largest city and most prominent commercial and cultural hub. The county's natural resources and tourism has fuelled economic growth in recent years and Dar es Salaam is known for being the leading financial centre of Tanzania. This bustling city contains high concentrations of trade and other services, many of which are small businesses run by traders and proprietors. It is also the primary point of entry for most travellers visiting Tanzania.
Situated on the Indian Ocean coastline, this waterfront city offers a unique blend of African, Indian, Arab, and colonial influences. Some of the 'must-see' attractions in Dar es Salaam include the spectacular harbour, the National Museum, and the local markets such as the Kariakoo Market which is great for finding authentic leather goods, pottery, and fabrics. There are also several beautiful beaches that are not to missed. In addition to the attractions within the confines of the city, Dar es Salaam is loved for being a springboard to some of the country's more well-known destinations like Mount Kilimanjaro, the national parks, Zanzibar and Pemba, and more.
For your return journey, fly back to Johannesburg with Airlink and travel beyond to other key Airlink business or leisure destinations.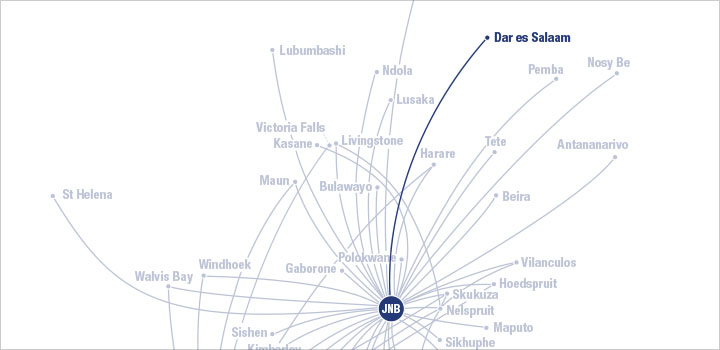 Direct Flights to Dar Es Salaam with Airlink
Airlink connects you to Dar Es Salaam with direct flights from Johannesburg.
WHERE TO STAY
Discover where to stay for your next trip to Dar es Salaam. Explore our partner hotels, lodges and tented camps.
EXPLORE DAR ES SALAAM
Dar es Salaam is Tanzania's major business hub, and serves as the main entry point for visitors travelling to Tanzania's national parks and Zanzibar. It hosts a diverse music, arts and restaurant scene, alongside historical and natural sites of interest like the Askari Monument and Pugu Hills.
What to do in Dar Es Salaam
Pugu Hills Forest Reserve

Considered to be one of the oldest forests in the world, Pugu Hills Forest Reserve is characterised by its extensive variety of flora and fauna. With a local guide, you are sure to explore the reserve as best as possible and your day is guaranteed to be one to remember.

Read More

Askari Monument

Askari Monument is an African Memorial dedicated to the askari – African soldiers – who fought in the British campaign against Germany. It is a historical landmark that was erected to honour those who died in WWI.

Read More
Exploring Dar es Salaam - Tanzania's epic metropolis
Dar is the largest city in Tanzania with 4.3 million inhabitants, and is one of East Africa's greatest metropolis'.
Watch More
Need Help?