Important update: Ceasing of Domestic Departures Screening
Urgent Reminder
Please be reminded that passengers are required to wear a face mask at all times. Face shields are only acceptable if a mask is worn underneath the face shield.
Health and Safety Protocols
Safety and well-being – yours and ours – remain our primary concern.
We've introduced additional hygiene protocols in accordance with the Covid19 guidance.
Whilst we take care of keeping our aircraft clean and safe, you can help us keep them that way with good personal hygiene and social distancing practices throughout your journey, from the moment you leave home, to when you disembark at your destination.

Feel safe when you fly Airlink during the current COVID travel restrictions, it's easier than you think – follow these simple steps
The technology used in Airlink aircraft cabins means that the possible transmission of COVID-19 onboard is reduced - See more here.
SACAA Compliance for Air Transportation in South Africa
The South African Civil Aviation Authority (SACAA) is mandated to monitor and ensure compliance by Airlines, Airports and Passengers with the applicable industry regulations, directions and guidelines issued by the Minister of Transport in order to prevent and control the spread of COVID-19 throughout the air transportation value chain.
Click here to READ MORE



Traveller Health Questionnaire
During this time, we're also required to look out for each other. Therefore, we're asked to make sure that ALL of our customers complete the relevant Traveller Health Questionnaire. Be sure to bring the completed form with you as you will be asked to present it by Port Health before you enter the terminal building.

Download Form Here:
Traveller Health Questionnaire - for international/regional flights
The forms have been introduced to keep track of everyone's health status. If someone becomes unwell shortly after travelling, this will help Department of Health trace and monitor anyone else who might have come into contact with the unwell traveller during their journey.
If you would like more information, it is available from these websites:
National Dept of Health: www.health.gov.za
National Institute for Communicable Diseases: www.nicd.ac.za
Airports Company South Africa website: www.airports.co.za
Department of Health to launch pilot programme for a new web-based Travel Health Questionnaire COVID-19 screening platform - Read more Here
If you have tested positive for COVID-19, please report this to the NICD on 0861 322 322 or 0800 02 9999. The NICD will contact the airline.
Urgent Reminder
Please be reminded that passengers are required to wear a face mask at all times. Face shields are only acceptable if a mask is worn underneath the face shield.
Departing South Africa.
24/7 Covid-19 Testing at OR Tambo.
Good news for travellers departing South Africa from OR Tambo is that they can get Covid-19 PCR-tested and collect their certificate at the airport prior to departure.
National Health Laboratory Service (www.nhls.ac.za/) is operating three mobile Covid-19 Test Units in clearly identifiable vans located opposite the InterContinental Hotel, in front of the Police Station, on the lower level of the airport complex. The service is available 24/7 according to Port Health Services, at a cost of R600 (cash, cheque cards and credit cards are accepted, except American Express). Children under five years do not require a test.
Results are available in four to six hours and the traveller is advised by SMS that the test result and certificate are ready for collection.
After testing, travellers can wait for the SMS at the airport or nearby, collect the certificate, and proceed to fly, or the test may be done a day or two prior to departure if preferred, and the certificate collected on the day of departure.
Inbound travellers to South Africa, including South Africans, must hold a negative PCR test certificate taken within 72 hours of their departure time. This certificate is valid for the duration of the traveller's inbound journey and takes into consideration long stopovers at transit points and is for a single entry only. (Every time a traveller departs for South Africa, a new test is required prior to departure.)
On arrival in South Africa, the traveller must produce a printed copy of the test certificate. However, Port Health says travellers who receive their certificate on a mobile device whilst travelling, who are not able to print a copy, and only have the certificate on their phone/device, are permitted to email a copy of certificate to ortia.operations@health.gov.za
On arrival, the traveller must show the Port Health authorities the certificate on the mobile device plus the proof of the email sent. The email can be sent prior to arrival in South Africa or once at the airport after arrival, but must be sent prior to reporting to Port Health for clearance.
For ease of tracking, passengers should their Surname / Passport Number / Flight details in subject line.
For example: Covid certificate STEYN / A00290456 /TK1234 Arr 10DEC20
Foreign travellers are required to have Covid-19 insurance for travel to South Africa, to cover any quarantine costs if applicable. In the event of a traveller arriving without a certified negative Covid-19 PCR test the following will apply, according to Port Health services:Port Health says it is mandatory for all foreign passport holders to download the South African COVIDAlert SA app, preferably prior to arrival in South Africa.
South African passport holders are not obliged to, but are encouraged to download the app.
Covid requirements for travel within South Africa (Domestic).
Original South African ID, driver's license or passport
Children under 16 (original or certified copy of birth certificate)
No Covid-19 PCR test is required for domestic travel.
Departing South Africa
Please find this list of country by country Covid regulations for ease of reference- click here for PDF
Airport Access, Drop-off, Pick-up, and Parking
If you are travelling from or to O.R. Tambo International Airport
The upper roadway has been re-opened for drop-off's only.
Level 3 is for drop off and normal passenger parking.
Level 2 to 4 are for the pick-up of passengers with 30 minutes free.
If you plan to leave your car at the airport, follow the signs directing you to the car park.
At all airports in South Africa
Only a limited number of airport terminal entry and exit points will be available. This is to ensure that everyone is screened properly and consistently.
Thermal Screening
Public health authorities* require that we all have our temperatures checked several times during our journeys. For this purpose, dedicated personnel at the airports have been equipped with infra-red digital thermometers. These devices are calibrated and do not rely on physical touch.
You will be temperature screened as you enter and exit the airport and possibly again before reaching the check-in counter.
For your safety and theirs, our check-in agents will be wearing face shields/ cloth masks and sit behind transparent protective screens. They will ask you some questions about your recent and current health.
Your temperature might be measured again at the boarding gate and once more on arrival at your destination.
If, at any screening point, your temperature is higher than 37.5°C, you will not be allowed to board your flight.
*CAPSCA (Collaborative Arrangement for the Prevention and Management of Public Health Events in Civil Aviation)
The process to access the terminal building and check in will take much longer than before. Passengers should plan to arrive at the airport earlier in to be at the designated check in counter (domestic travel) 2 hours prior to departure. We recommend passengers check-in online or use the self-service kiosks and the designated Airlink baggage drop counter.

Boarding Procedures
Because it is crucial that we maintain social distancing and minimize the opportunities for physical contact, boarding will be done differently to how it was done before.
Boarding will be organised sequentially. The same process will be used for all flights, whether it requires walking across the tarmac, using a jet-bridge or getting on a bus, to reach the aircraft.
Passengers will be required to scan their own boarding pass at security check points and at the boarding gate, present identification and will be requested to remove their face mask to verify their identification.
Always remember to wear your mask while the flight is boarding, even after you are seated. If you don't, we are required to offload you.
You will be required to wear your mask throughout the flight.
You are welcome to bring your own hand sanitisers, please don't wipe any of the seat, tray-tables or surrounding aircraft surfaces with your hand sanitizer as they may cause damage.
Cabin crew will have hand sanitizer wipes available should you wish to wipe your seating area.
Liquid and gel security restrictions still apply, so please limit your containers of 70% alcohol- based hand sanitisers to 100ml. Security officials will confiscate any bottles that exceed the limitations.

Hygiene on Busses
Some flights may require passengers to board busses which transfer them from the boarding gate to the aircraft, or from the aircraft to the arrival's terminal. For your peace of mind, the Health regulations require that busses are cleaned and disinfected after every trip.
This includes all surfaces and touch points you are likely to touch, such as doors, hand-grabs, Hand-rails and seats.
Say "goodbye" to crammed busses - they are not allowed to carry more than 70% of their capacity.

Onboard our planes
Please wear your face mask while you are onboard. It's to protect you and everyone else.
The cabin air in our aircraft is renewed every three minutes and kept clean by passing it through High Efficiency Particle Air (HEPA) filters, similar to those used in hospital operating theatres. They are proven to block 99,97% of all microscopic particles, including Coronavirus molecules.
In addition, our aircraft are cleaned and sanitised to the highest aviation health and safety standards.
This includes all touchpoints such as seats, safety-belts, head-rests, seat-pockets, overhead baggage bins, the air-vent/reading light/call button consols, tray-tables, windows and shutters.
We also replace the headrest covers on every seat prior to the flight
Unfortunately, we have had to remove the inflight magazines from the seat pocket. (https://www.flyairlink.com/in-flight-magazine/about-skyways)
If you require any assistance, reassurance or you are not feeling well, please speak to one of our flight attendants.
From your side – it's simple:
Wear your facemask while you are in the airport and onboard our planes.
Frequently wash your hands with water and soap or use a suitable sanitiser.
Avoid touching your mouth, nose, eyes and other people
Don't forget to carry your travel permit.

Our aircraft are equipped with High Efficiency Particulate Air filters, like those used in hospital operating theatres, which are effective at blocking 99.97% of particulates, including Coronavirus molecules. These filters help to continually sterilise the air in our cabins, which is renewed entirely every three minutes.
For more information: https://www.embraercommercialaviation.com/clean-air-clean-cabin-safe-flight/
E-JETS Cabin Air Recirculation
E-Jets were designed considering the most up-to-date engineering best practices, including all major standards (FAA/ EASA, SAE, and ASHRAE).
E-Jets exchange their entire volume of cabin air 20 to 30 times every hour (air is totally exchanged every 2-3 minutes). This is 10 times more frequently than the air in an office, and 5 to 6 times more than hospitals.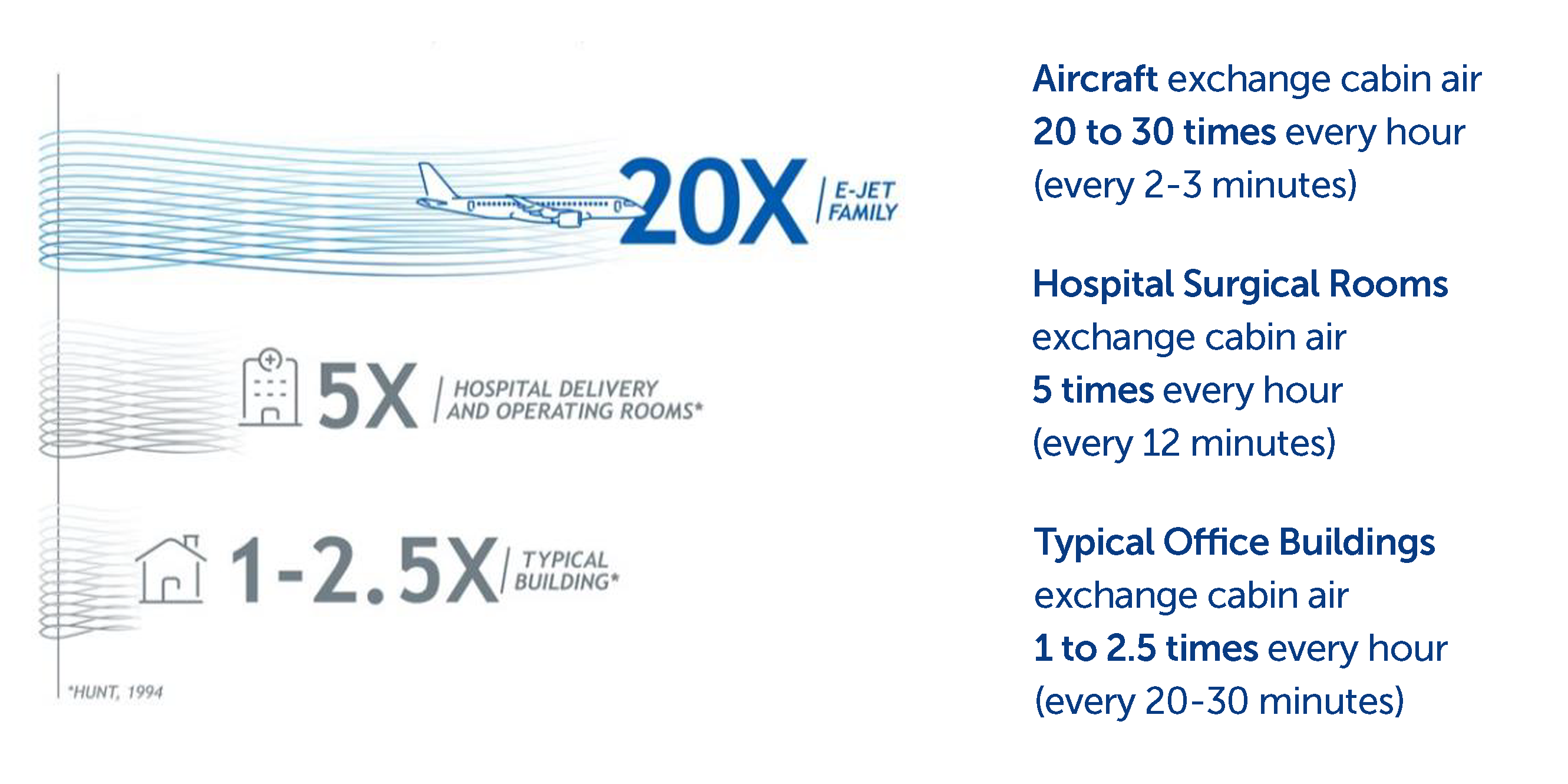 The use of cabin recirculation HEPA (High Efficient Particulate Air) filters on every E-Jets the same technology used in hospital to trap pollutants including COVID-19 virus with an efficiency over 99.9%*
E-JETS Air Management System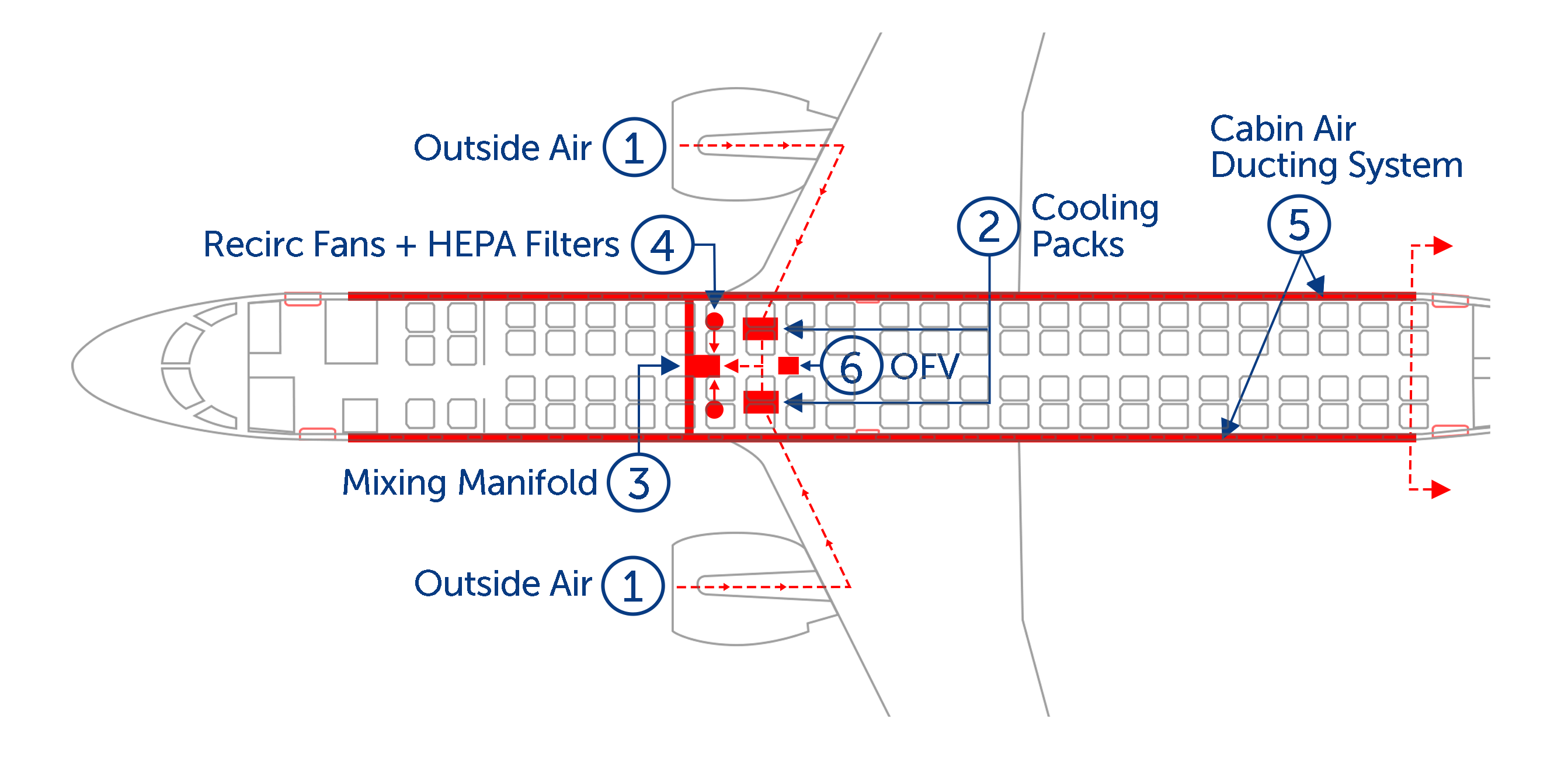 1 - Outside air is taken from the main engines/APU.
2 - Hot air is conditioned in the cooling packs.
3 - Cooled outside air is mixed with recirc filtered air in the mixing chamber in a 50 to 50 ratio.
4 - Particles including bio-contaminants (fungus, virus and bacteria) are retained in the HEPA filters.
5 and 6 - Air is distributed throughout the cabin by diffusers located near the overhead bins and exit the return grills located next to the floor; the outflow valve controls the cabin pressure by modulating the airflow from pressurized area to the outside environment

E-JETS Cabin Airflow
Cabin air conditioning system designed to minimize cross infection between aircraft rows.
The airflow passes through the pax head position and exit in the same cabin section (not front to back or vice-versa).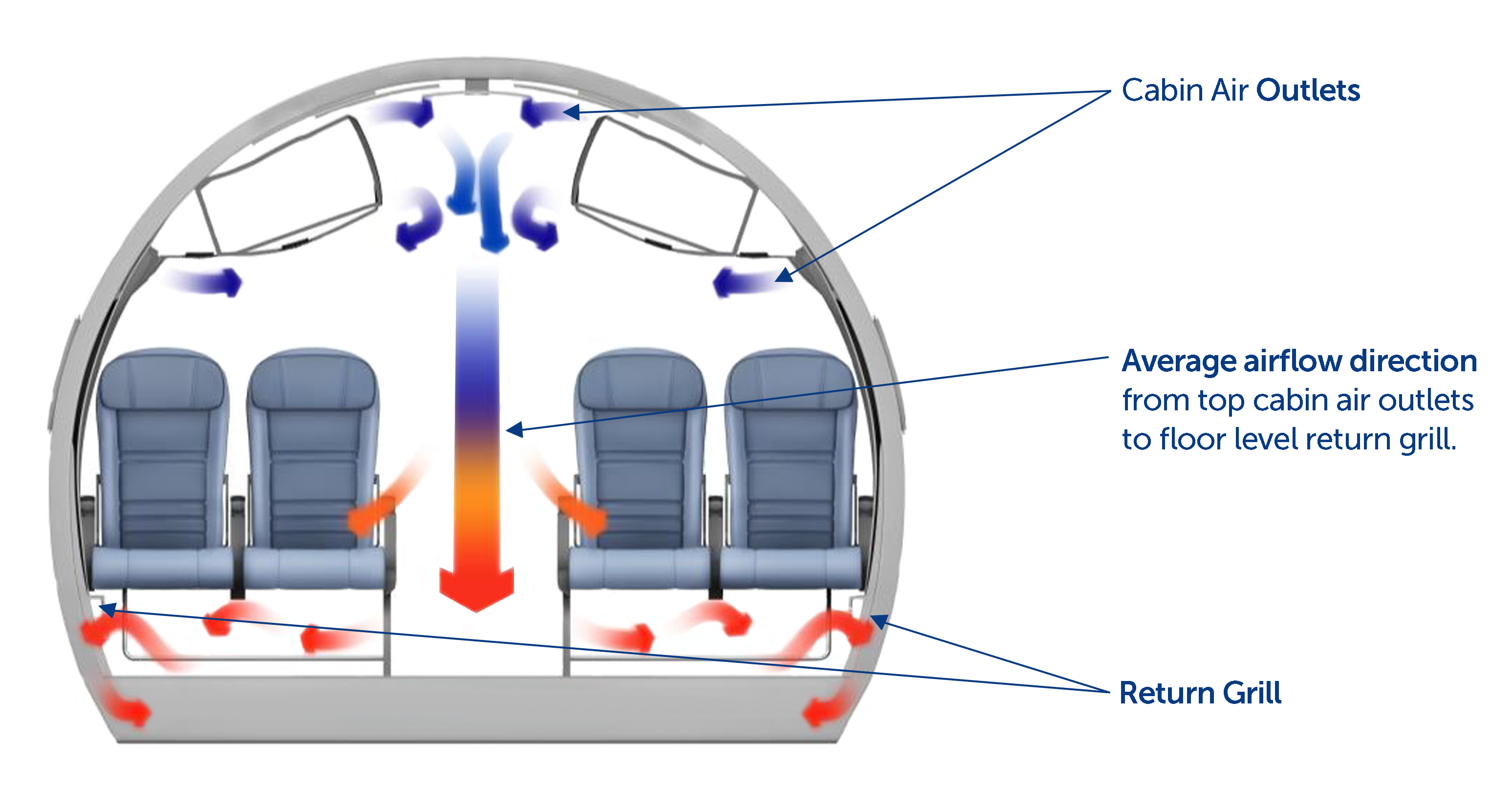 E-JETS Cabin Air Outlet – Passenger Air Barrier
The protection effect of E-Jets cabin air outlets is high due to its proximity to the passenger head position (L), as the air dispersion is lower. Studies indicate the E-Jets air outlet valve may act as an additional contaminant barrier, acting as an air curtain to minimize cross infection.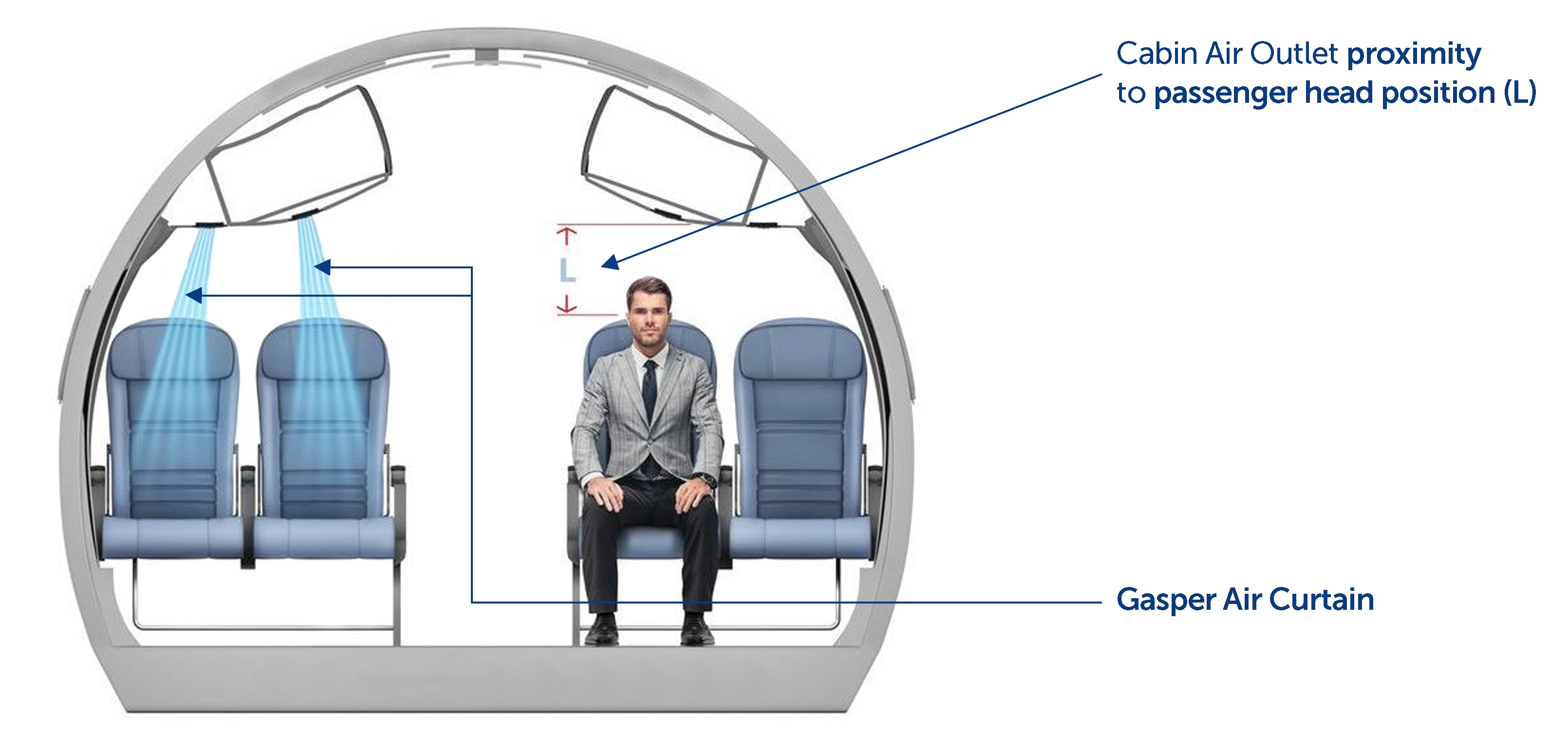 Together with the Airports Company South Africa, we are implementing all of the necessary effective sanitisation and distancing measures to stop the transmission of the COVID-19 virus while travelling on an Airlink flight.
We look forward to welcoming you back on one of our flights soon.
For any additional queries please contact our Customer Care Department.
Tel: +27 11 451 7300
Email: customercare@flyairlink.com